06880danwoog.com: Unsung Hero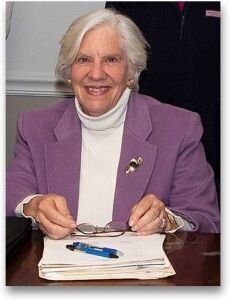 After 40 years as founder and chair of The Susan Fund — where she has overseen raising and distributing nearly $2 million in scholarships to 285 Fairfield County students diagnosed with cancer — Ann Lloyd is stepping down from her role. Fortunately, she'll remain on the board. (Four members are previous scholarship recipients.)

Fellow board members Jeff Booth and Kelly Frey Pollard nominate her as an Unsung Hero. There is no better choice -- and no better giving, caring, wonderful Westporter. Ann founded The Susan Fund in honor of her daughter, a vivacious Staples High School student who battled bone cancer for 13 months before succumbing in 1980. Susan worked at Westport's Fine Arts Theater, and was looking forward to attending Colgate University when she died. 
Thanks to Ann's efforts — and those of the countless others she's marshalled to the cause —Susan's legacy lives on. In addition to Susan, Ann — a decades-long Westporter — raised 3 sons: Will, David and Doug.

During their school years she worked at IBM, National CSS and Xerox, primarily in computer systems. Following early retirement from Xerox, Ann worked for Children in Placement as a guardian ad litem, and volunteer coordinator for abused and neglected children in the Stamford court.

She is also active in community organizations, particularly Westport Sunrise Rotary, Y's Women (board member), and an investing club. Ann was an active tennis player, and still plays bridge via Zoom. She is a member of the Wellesley College Alumnae Association — and an amazing person.

Every year, The Susan Fund board meets with applicants to learn of their challenges and successes and to provide emotional support. Ann is proud that over 90% of contributions go directly to scholarships.

Congratulations, Ann — our Unsung Hero of the Week. Readers wishing to honor her can visit TheSusanFund.org to make a donation.