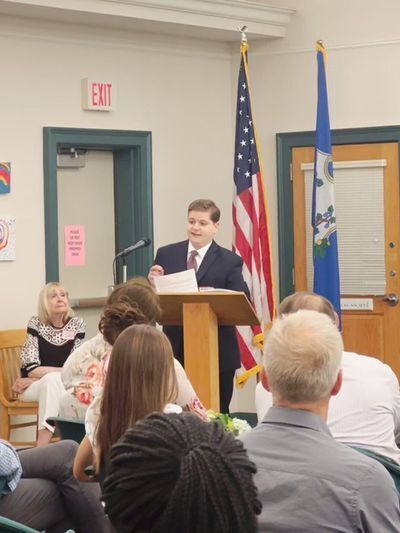 Hello. My name is Michael Holtz.
Everyone in this room has all been through so much, whether it be facing a cancer diagnosis, a pandemic or both. I remember my first Susan fund reception right here in Easton--and then it went virtual-- and then in Greenwich outside to keep us safe. How nice to come full circle and be here in Easton again as I prepare for my last year of college. When I consider the gifts in my life - among them are - family, friends, The Susan Fund, survival and a college education.
I remember when Diane Karazulas called me to invite me to speak today. I was taken aback, flattered but confused as to what I was supposed to say. And then I realized I had plenty that I could say and share. Despite my challenges, I have remained committed to my academics and to pursuing my undergraduate degree full-time. I remember a time when I was not so sure that I would be able to attend college or even be able to do so away from home. Diagnosed with a high-grade glioma brain tumor at the age of three, I am so proud to now be reaching my senior year at Stonehill College in Easton, Massachusetts. I do it to better myself and to dream in honor of many who never got to.
We are all gathered in this room because of Susan and her extraordinary family and friends. As a recipient of this scholarship, I know that I share in the responsibility of being Susan's legacy. It is an honor that lets me celebrate my abilities and recognize the many brave angels, like Charlie Capalbo, who befriend her above. This fund is a gift to honor Susan's memory in the most remarkable way and a gift to recipients like me. This room understands that tomorrow is promised to no one, so I try to be grateful for today. As a survivor, my grit and my gratitude remind me to be the best possible version of myself. Hope is my cheerleader and courage is my silent coach.
I am double majoring to pursue a B.S.B.A. in Marketing and a B.A. in Economics dual degree, and have focused myself on Finance extra-curriculars. My career objectives include obtaining an M.B.A. and one day utilizing all that I have learned about the marketing mix to serve me well in a career in business or financial services. I know that the job market is likely to be very competitive for students like me, so I am focused on remaining versatile, invoking all that I have learned and welcoming professional growth experiences that engage my abilities.
With compassion, integrity and emotional intelligence, I am learning that I can find ways to be involved and to have the life I have been given matter and make a difference. While volunteering has been a very important part of my life and has let me witness that I can impact others, I know that I came to Stonehill to better myself in other ways too. I want  to realize the power of my abilities and am so grateful to have my undergraduate education fortify them.
I ALWAYS consider that my whole life has been negotiated because of my cancer, for my cancer, and now , fortunately, in spite of my cancer. A malignant disease once created pressure in my head, but even as a survivor, I can still experience a different kind of pressure in my head. Doubt and fear try to distract me, but I persevere. I try not to let my limitations predict my future. I believe I can overcome challenges by finding ways to learn and to matter, reminding myself that diligence defeats deficits and tenacity trumps tragedy.
Support from The Susan Fund makes all the difference in the world. Health and happiness to all! THANK YOU!